Miley Cyrus couldn't hold back her emotions as she shed tears during her performance in Las Vegas on Saturday.
At the iHeartRadio Music Festival held at the MGM Grand Garden Arena, the audience was entertained by numerous A-list performers including a popular singer. The singer appeared on stage wearing a white lace-up leotard and performed her latest single while dancing with her group of dancers. The performance was electrifying, and the crowd couldn't help but get up on their feet.
The show went on with Miley Cyrus' hit song "We Can't Stop." However, things took a somber turn during her performance of "Wrecking Ball" – the breakup song that she performed after her recent split from Liam Hemsworth. This information was reported by X17 Online.
According to the report, tears started rolling down her face. Before the show, the singer had tweeted and received a message from Avril Lavigne who was performing after her. The iHeartRadio Music Festival took place over two days featuring various artists such as Robin Thicke, Miguel, Sir Elton John, Keith Urban, Chris Brown, Muse, Adam Lambert, Queen, and Katy Perry.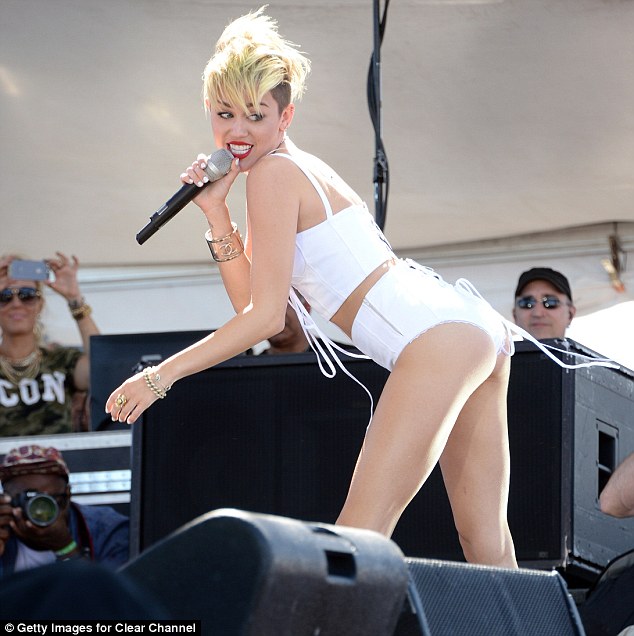 During his performance of the popular summer anthem "Blurred Lines," Thicke caught the attention of the audience when his zipper partially came down and a button on his shirt popped off, revealing his belly button. Other artists who performed on Saturday included Justin Timberlake, Bruno Mars, Sir Paul McCartney, Drake, Tim McGraw, Ke$ha, Maroon 5, The Wanted, and Ne-Yo, among many others.